Blow me down with a feather. The Cambodian football federation never cease to surprise me. The federation president has just announced that the new head coach of the Cambodian national senior team will be
Hok 'The Jet' Sochetra
. Until recently he was a youth coach at Preah Khan Reach and number three in the Cambodian U-22s coaching set-up. In one quick blink of an eye he's been elevated to senior head coach. More on the appointment later. For the time being, here's a piece on the new boss that I did in November 2008, when he was coach of Post Tel. How times change.
The legendary Jet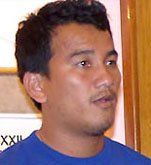 Of the ten competing teams in the Cambodia Premier League, Post-Tel FC lie second from bottom. Even a name change in August from Intry Kraham Post FC hasn't done the trick, but at least they have as their coach, the most famous name in Cambodian football history.
Hok 'The Jet' Sochetra
is a legend in his homeland. His goal-scoring prowess saw him net 42 goals in 64 appearances for his country, even though for many of the games, he ended up on the losing side, such is Cambodia's form as one of the poorer teams in world soccer. Under German coach Joachim Fickert they did enjoy a flicker of success in the 1997 President's Cup and Southeast Asian Games and Sochetra was feted for his somersault celebration after scoring in a defeat to China. He stopped playing for the national team after the 2000 Tiger Cup competition when he landed a job with the Samart cell phone company,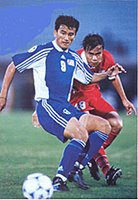 and his new employers refused to let him play for the team. He was just 26 years old. At the time experts rated him one of the top two strikers in Southeast Asian football and the telephone company had hired him for his popularity and promotional value, then refused to let him play! In the international wilderness, Sochetra gained weight and wasn't the same man when his employers relented and he received call-ups for a World Cup match against the Maldives and for the Tiger Cup in 2002. Lacking his renowned deadly finish in front of goal, Sochetra called it a day on the international scene despite his superlative scoring record and instead got on with a coaching role, both as an assistant coach to the Cambodian U-23 squad and as player-coach with the new Samart United team, who won the Cambodian League Championship in their first season in 2002. He spent a few seasons in charge at Samart, who changed their name to Hello United and then Phnom Penh Empire, playing sporadically until calling a halt to his playing career when taking over the reins at Intry Kraham Post, now called Post-Tel FC. If anyone can bring about a change in fortunes for the team by the sheer weight of their personality, then Hok 'The Jet' Sochetra can.